What's A Watch List?
The "Watch List" field in ServiceNow is a field that allows users to add other users to a list of people who will receive notifications when comments are added to a specific record.
The "Watch List" field is typically used to notify specific individuals or groups of individuals when updates are made to a record, such as an incident or change request.
Say you want your manager to be added to all emails for a specific incident, but you're not assigning the incident to your manager.
In this case, you'd just throw them on the watch list.
In the below example, you'll see "Watch List" on the Notes tab.
By adding "Fred Luddy" to the watch list, Fred will get all email updates for this incident.

The use case here should be pretty obvious – it's just increasing communication for certain users – on a case by case basis.
This can be useful for keeping team members informed about the progress of an incident or change request, or for bringing a specific individual's attention to an update that is relevant to them.
The notifications are sent via email, and it will include the comment, the record's link, and the name of the user who added the comment.
This all depends on how your instance has been customized, but it should work out of box.
Watch List Dictionary Entry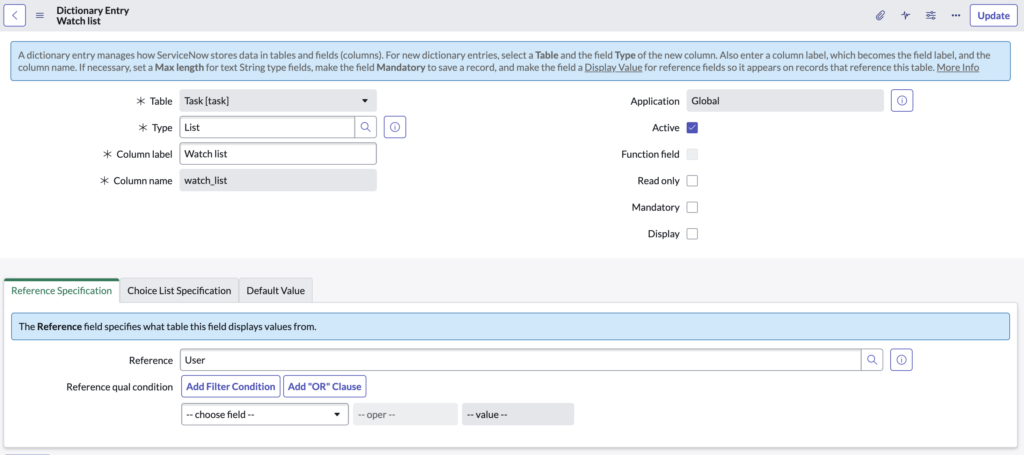 As you can see, the Watch List is on the "Task" table, so it's also on all child tables of task, like Incident.
And it's just a list of users.
It is important to note that the "Watch List" field is different from the "Work Notes List" feature.
The "Work Notes" list is a list of users who will receive Work Notes, when those are added to an incident.
Work Notes should be exclusively restricted to ITIL users, and never end users. Sometimes people in IT don't write the nicest or most professional notes in the Work Notes, so we'd want to shield those work notes from our kind end users.
So the "Watch List" field is a just useful tool for keeping team members informed about the progress of a record in ServiceNow, and can help ensure that everyone who needs to be kept informed is aware of updates and changes to the record.
Every task based form has a "Watch List" field, and if you don't see it – you may have to add it to the form.
Some people have a hard time differentiating the two fields.
When you're giving ServiceNow Training to your end users, make sure that you let them know the distinct difference between these two fields.
This should be one of the first things covered when you're conducting ServiceNow Training for your teams using the incident application, and ServiceNow.
That's a wrap for the "Watch List", it's really a super simple field.